Dome Mountain Ranch
After we came off our eclipse high we packed up and headed north from Teton, once again through Yellowstone. Once we came out of the park we found ourselves in Gardiner, Montana, which still feels like an old Western outpost type of town.

From there, we had the amazing opportunity to spend a few nights at Dome Mountain Ranch. The ranch is owned and operated by some friends of ours and since it was unoccupied we got to spend a few nights there to unwind after nearly a week of camping. It was much needed! We caught up on laundry, work and got to have some home cooked meals. It was awesome.

Aside from catching up, we also got to explore this insanely expansive property. The ranch has over 5,000 acres, multiple lodges, horse stables and more wild elk than you could count! Furthermore, there are still remnants of old Native American settlements, including a buffalo jump, and insane views from atop the mountain itself. The property also contains a section of the Yellowstone River. You could easily spend weeks here fishing, rafting and just enjoying the Montana views. This is a place we hope we can return to with friends and family for sure!
Butte & Bozeman
Feeling refreshed after a few days at the ranch, we headed further north and had breakfast in the old mining town of Butte. We stopped here because this is where Nolan's grandfather was born and raised. He joined the Navy after High School and ended up in Annapolis, Maryland. It was fun to get to see yet another hometown of one of our grandparents. While the town itself may have lost its allure we could picture how it once thrived. Glad we made the stop.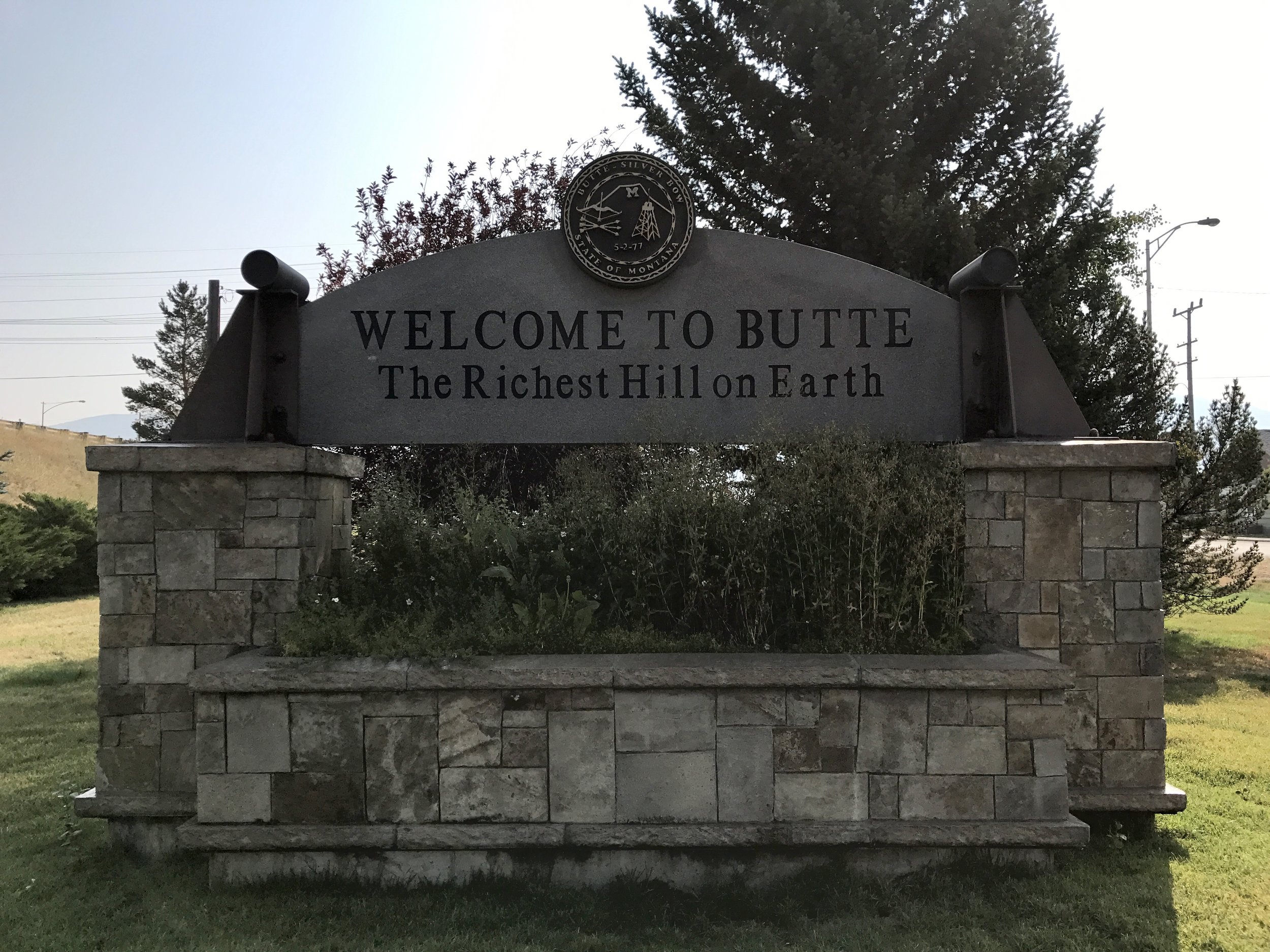 After this we met some friends at their home in Bozeman, Montana for lunch. Bozeman was awesome!! It felt like Nashville in the middle of Montana. Cool shops, restaurants and lots of amazing homes. Our friends, Stewart, Karen and Zach have an amazing home right in town. We were hooked the second we walked in and could easily have hung with them for days. Reluctantly though, we decided to continue heading north to Glacier. However, Bozeman will be on our short list of places to return to. This town called to us for sure…

Glacier National Park
We left Bozeman and immediately hit the fires. North of Bozeman there were multiple wildfires burning all around us. At some points in our drive, we could barely make out the road in front of us. It was pretty insane. Eventually though, we pulled into Glacier National Park after dark and were able to find a campsite.
Glacier was certainly not immune to the fires. Once we arrived we could smell the smoke in the air and when we woke up we could see the thick white clouds affecting the views all around us. Bummer! That being said, we spent our first day driving the "Going-To-The-Sun Road," which essentially cuts through the middle of the whole park. We caught a glimpse of the impressive peaks, multiple glaciers and the gorgeous river valleys below. Unfortunately, the fires made everything a bit hazy but nonetheless we got an immediate sense for how beautiful this park is!
Our second full day was incredible. We got up before sunrise and drove north to do the Grinnell Glacier Hike. It was stunning from the beginning, we even saw a GRIZZLY on the way (safely from the vehicle). As we started the hike, the morning light lit up the mountains around us in red, orange and pink. We also got to see a perfectly flat and clear Lake Josephine as the sun came up. It was awesome. We continued our hike, took a wrong turn and rather than making it to the Upper Grinnell Lake we found ourselves alone at the Lower Lake. While it may have been a wrong turn, it ended up being insane: we were all alone at a beautiful glacial lake surrounded by steep peaks and cascading waterfalls from the glacier above.
We assume not many people make it down to the Lower Grinnell Lake. You get views of it as you walk further up to the glacier itself. However, we found this lake to be insanely gorgeous and untouched. By the time we got back to the main trail it was packed so we headed down after about five hours of exploring. Oh well, a "mistake" ended up being one of our top moments of our US trip so far.
We returned to our campsite and decided to take a dip in St. Mary Lake. Well, they certainly don't call it Glacier National Park for nothing. That water was some of the coldest we have ever swam in. But, it was worth it and an awesome way to end our time in the park. Yes, our experience was somewhat affected by the fires, but we had a blast visiting this beautiful park. Getting up early made all the difference in avoiding some of the smoke and end-of-summer crowds.
From here, we decided to head into Canada to visit Banff. Look forward to sharing our time there when we get some more internet! Have a good week!!