KITTANNING, PENNSYLVANIA
Nestled along the east bank of the Allegheny River, about 44 miles northeast of Pittsburgh, is the charming old steel-mill town of Kittanning, PA, where Nolan's godfather lives. We drove up from Deep Creek (about 2.5 hours) to spend a long weekend with him. This place is like a second home to Nolan as he and his family have been visiting since he was little. In fact, Nolan's parents made the drive up from Baltimore to meet us, which was a great bonus!
We happened to be visiting during the Armstrong County's Folk Festival, which was set up along the banks of the river and included hand-crafted artist market, musical entertainment, and festival food! The main event though, was getting to spend a few nights out on the river waterskiing. Although we both hadn't skied in about 10 years, Nolan got up and looked like a pro, and Kirby got up on a slalom for the 2nd time EVER! It was a blast, but we definitely paid for it the next morning!
Overall, we had a wonderful visit. It was great to get to spend some time after camping with our family and friends, especially before heading west to essentially live out of our car! We already can't wait to visit again next summer, hopefully in better shape!
CHICAGO, ILLINOIS
After a 7.5-hour drive from Kittanning, we arrived in Chicago and settled into our Airbnb, which was situated in the middle of the financial district, near Millennium Park. The first night we arrived, we were exhausted and so decided to check out a lovely wine store, Perman Wine Selections, grab some take-out, and binge watch the latest episodes of Game of Thrones. It made us feel like we were back at home!
On our one and only full day we accomplished quite a lot! During the day we did our own tour of the city (total of about 8.5 miles walking) starting at Bow Truss Coffee Roasters with some cold brew and then took a cab to one of Jeff Tweedy's (Wilco lead singer) favorite brunch spots, Toast, located in Bucktown. From the classic city view at North Avenue Beach, to the iconic Chicago Theatre sign, to Cloud Gate (the bean) in Millennium Park, Calder's Flamingo, and the Art Institute of Chicago…we loved it all!
In the evening, we got to meet up with our friend Hunter's younger sister, Lindsay at an amazing rooftop bar near Millennium park called Cindy's. While we got a lot of great dinner advice, we then decided to treat ourselves and had a fabulous Chinese dinner at Duck Duck Goat, owned by celebrity chef Stephanie Izard.
Overall, we loved Chicago. It feels like NYC, but is more laid back and the people are so friendly! While we cannot imagine what the wind off Lake Michigan feels like in Jan/Feb, during the summer the city is just awesome! It was a great stopping point before continuing on our way. We even found a killer Cold Brew from Metric Coffee we liked, so naturally on our way out we stocked our cooler to last us about a week :)
MANCHESTER, IOWA
We left the Windy City and headed about four hours west across Illinois and into Iowa and boy did we see some corn!! Fields upon fields upon never-ending fields of corn and a whole lot of giant wind turbines. It was pretty wild to see! We also got our first taste of a vicious afternoon Thunderstorm that rolled across the interstate.
Our ultimate destination in Iowa was a small town called Manchester, situated just above Cedar Rapids, IA. Here, we spent two nights with Kirby's friend since middle school, Rachel Polito, who lives with her husband Josiah, and their two young daughters. It was once again awesome to see some familiar faces and catch up with old friends. We also got to experience what it is like living in SmallTown, USA. While it may not be for us, there is something about it that is charming, cozy and simpler. We have to say, it was refreshing!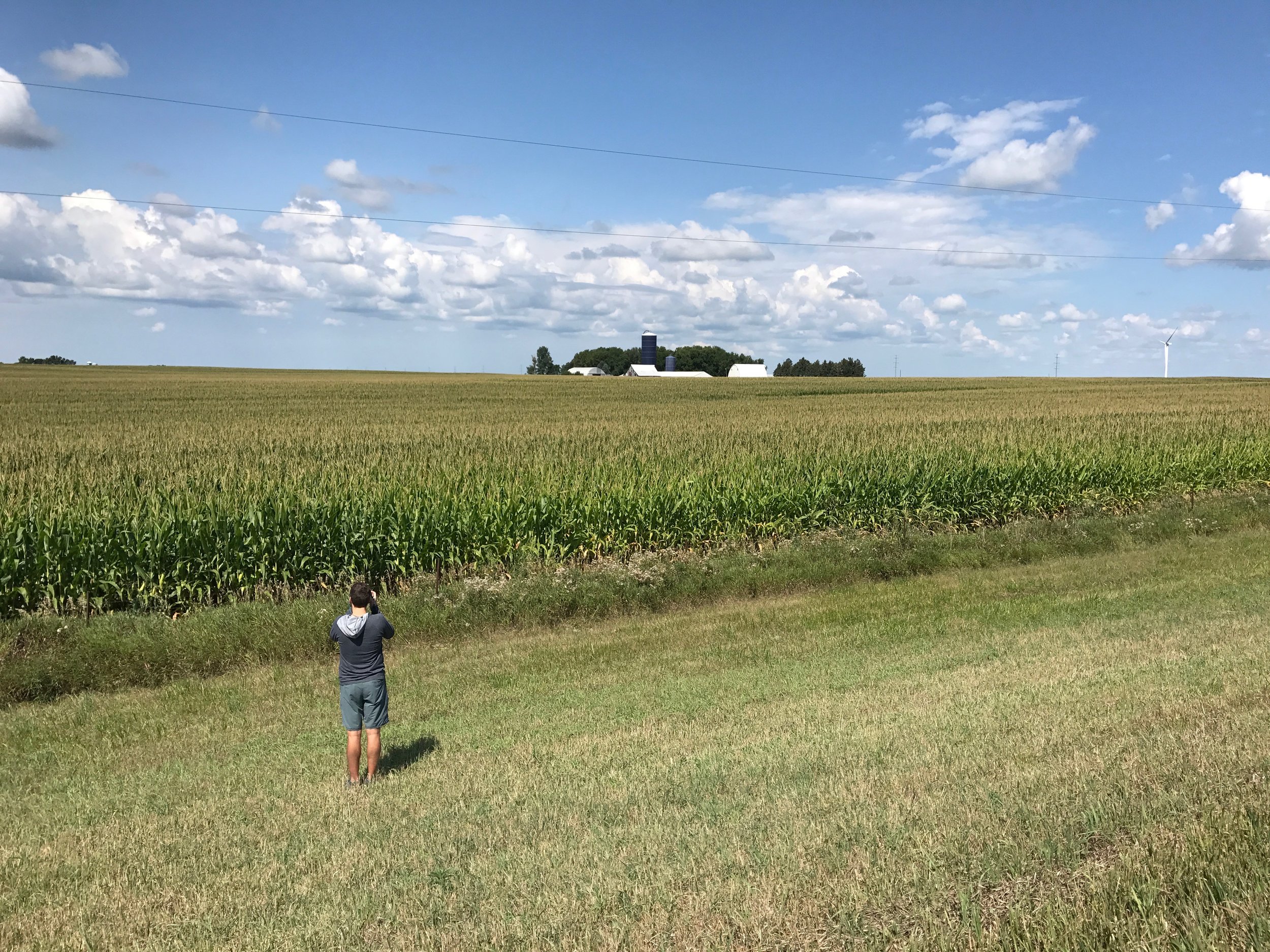 We are likely to be a bit off the grid the next few days. We are in South Dakota exploring national and state parks before continuing west to Wyoming and beyond. Speak soon!