The second country on our SE Asia tour was Vietnam and we had quite an array of experiences! The country is so diverse, we really had no idea. Read on to find out how we fared:

Hoi An
Our first stop in Vietnam was the small coastal town of Hoi An. This place has become one of our favorite destinations thus far. The town was quiet, the people were friendly and walking through the old part of town at night was kind of magical. The streets are covered in colorful lanterns and in the river that ran through town, you would often see lanterns floating with the current. It was so pretty.

This was the perfect place to decompress after temple-hopping in Cambodia. Even though it pretty much poured the entire time we were there (in fact the river even overflowed into part of the town at one point), we loved this town. Perhaps it was the peace and quiet or perhaps it was because we were able to find an awesome wine bar that also had killer food. If you find yourself there check out this place: White Marble Wine Bar & Restaurant.

While the weather did not permit us to head to the beach, Hoi An is surrounded by some of Vietnam's most beautiful beaches that stretch the coast between the town itself and Da Nang. As we would soon find out, the big cities in Vietnam are madness, so we would highly recommend Hoi An as a breath of fresh air while in the country!
 
Sapa
After Hoi An we flew to Hanoi and then took a 5+ hour bus ride to the tiny mountain town of Sapa. If you have ever seen a picture of sprawling hills covered in rice paddies, you are likely looking at a picture of Sapa. This place is still truly stuck in time. Yes the actual "city" of Sapa has some chain hotels nowadays, but to get to the actual villages further up the mountain requires quite a trek.
We were feeling adventurous, so rather than stay in a posh hotel in the town center, we decided to do a homestay with a local family in one of the villages. It was pretty wild. As luck would have it, the weather was freezing the entire time we were there (average temp around 40 degrees Fahrenheit) and was accompanied by a nice driving rain 90% of the time. Add in the fact that our homestay did not have heat, we had a long three nights up in the mountain. Nonetheless, we made the most of it exploring the endless hills of paddies, sampling the local fare and making friends with our host family.
According to the locals, the best time to visit Sapa is in late August when the rice shoots are fully grown and the weather is perfect. Just do a google image search of "Sapa" and you likely will find amazing pictures taken during this time. We on the other hand, got the opposite. However, we are glad we got to experience this part of the world as the locals do and it is a few days neither one of us will forget for a very long time. Though next time, we will shoot for late August…

Hanoi
After Sapa we headed into the capital city of Hanoi and talk about the other end of the spectrum! Hanoi is home to 7 million people and over 5 million motorbikes. We learned pretty fast that walking through town will test your nerves. There are basically no traffic rules, everyone has the right of way so crossing the street is a lesson in confidence and prayer. This also made us feel way less bad about missing Saigon, that is home to 8.5mm people and 7.5mm motorbikes!!!

The cool thing though, was that on our first night in Hanoi we caught the Sunday night market where the city closes off a lot of main streets and opens them to pedestrians who play live music, sing karaoke and even have dancing circles. It was a lot of fun! We also enjoyed a few local beers in Hanoi's famous "beer corner."
Aside from the level of craziness, the other downside about Hanoi is the pollution! We have never experienced pollution like that and the city is considered one of the most polluted in the world. It gave us memories of being in Yosemite with the wild fires, but this was worse because what was causing our throats to hurt was smog.

We are glad we got to experience the city, but two nights was plenty for us!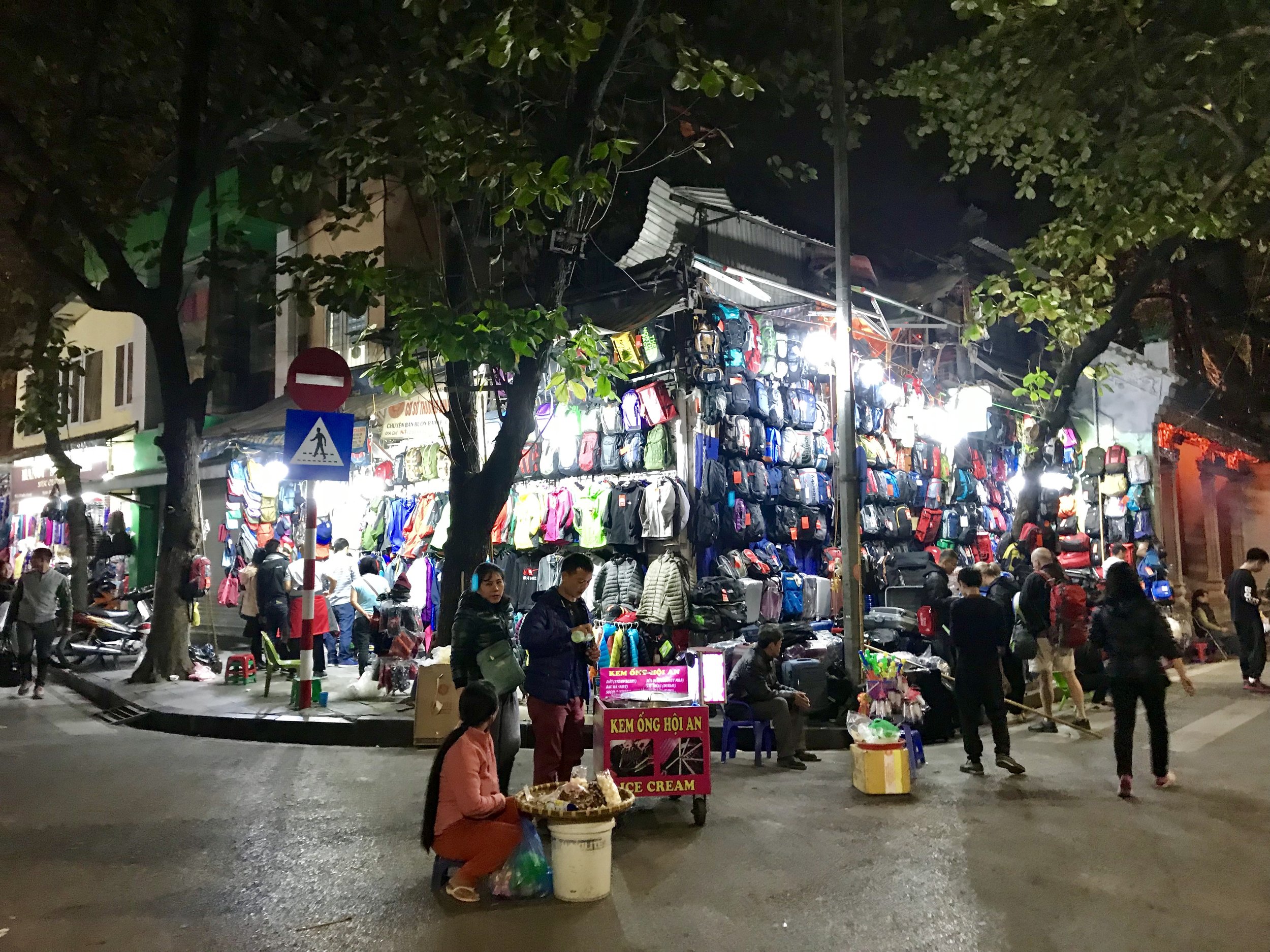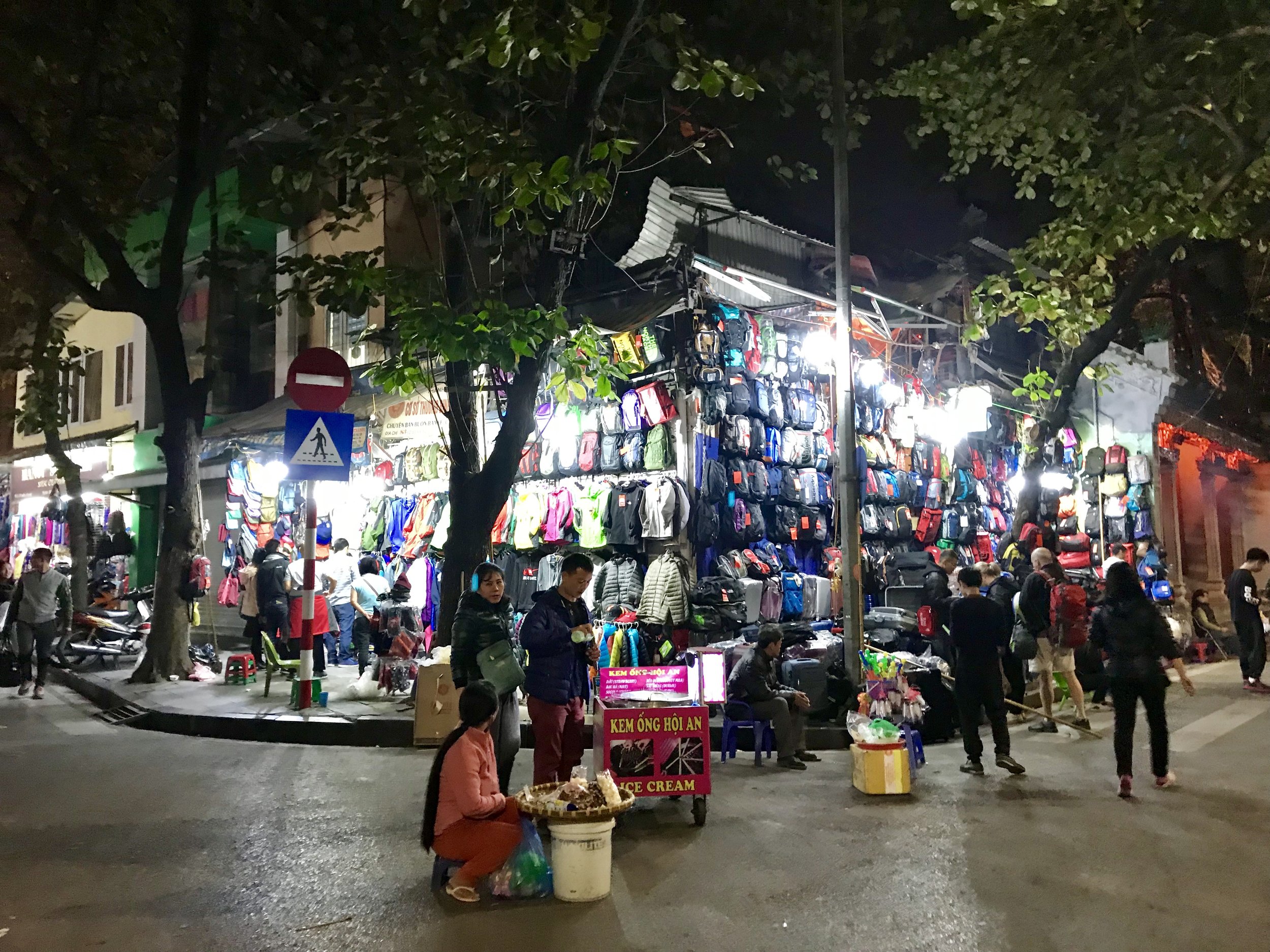 Halong Bay
This was probably the stop we were looking forward to the most as Halong Bay had been our bucket list for quite some time. The iconic bay features thousands of limestone "islands" that are scattered in all kinds of shapes and sizes throughout the turquoise bay. We opted to do a three day/ two night cruise in the bay, which was a splurge but was perhaps the best way to experience it.
Before we get to the good, let's address the bad: the place is mad touristy. Due to government regulations, the area of the bay open to tourists has shrunk dramatically. Furthermore, there are hundreds of boat companies offering extremely similar tour itineraries. What this amounts to is a complete cluster of boats, pollution, and mobs of people. It was everything but relaxing, particularly because the companies shuttle you from one thing to the next so you can maximize your time (most folks only do a single night or a day trip). You also learn pretty fast that the regulations clearly do not cover people throwing things in the water, boat exhausts or any really any major safety precautions. Kind of sad to see, but there really is no other option if you want to see the bay while in Vietnam…
Now to the good: the place is beautiful. Once you remove yourself from the madness, the bay itself is stunning. The endless islands of limestone are quite a sight to see. Luckily for us, because we opted for the extra night we got to explore some less crowded areas of the bay and it was gorgeous. Furthermore, we were extremely surprised at how nice our accommodations were on the boat and the food was terrific! We met some nice friends on the boat, enjoyed cocktails on the deck at night and took in the various sights and experiences that the bay has to offer including kayaking, caving and sampling the local fare.
While we aren't entirely sure we would do it again, we were so glad we got to lay eyes on this magical place. We heard rumors that the Vietnamese government may soon ban overnight cruises. We can only imagine what this would do if every tourist had to do a day-trip so we were glad we got to spend a few nights out there while we could. Yes it is touristy, yes it is a cluster, but the moments when you find some peace and quiet in front of those views make it all worth the trip….
We have to say, we were quite surprised by Vietnam. We had no idea that had such diverse landscapes and so many different activities to do. Furthermore, we had heard that some of the local people still had ill-feelings towards Americans from the war. We did not experience this at all! The people we met could not have been more gracious to us and they were some of the bests hosts we have encountered on all of our travels thus far. We loved spending nearly two weeks here and easily could have spent more.
Speak soon from our next destination, Laos!