Feels like forever since we last posted! The final leg of our US Road Trip took us through our southern states and it was a blast! Without further ado, here is what we tackled:

Dallas, Texas
Texas was our gateway to the south and when we started driving in from Colorado we realized one thing: Texas is massive! The state itself is so large that in most cases driving from city to city will eat up most of your day. We decided to spend a quick night in Dallas to break up our drive, because driving all the way to Houston from Colorado would have taken forever!
When we pulled into Dallas we started to understand why they say, "everything is bigger in Texas." The highways themselves can prove that fact. Tons of lanes, tons of overpasses and tons going on. It was quite a change from where we had come from! Just look at the pictures of the famous rest stop "Bucees" and you can see it's go big or go home in Texas:
Our last night camping in Colorado was cold and wet, so the second we arrived in Dallas we had a hot shower and then treated ourselves to a big Texas steak dinner, which was awesome! We crashed, recharged and woke up early to explore a bit of the city and of course, grab some coffee.
 
Waco, Texas
Full disclosure: one of our guilty pleasures is HGTV and one of our favorite shows is "Fixer Upper" starring Chip & Joanna Gaines. The Gaines' happen to be from Waco and so the opportunity to check it out on our way to Houston was not lost on us.
We drove an hour south and got our second coffee of the day in the middle of Waco and then headed out to the Magnolia Silos that the Gaines' built. The Magnolia Silos feature a full-fledged home goods store, a bakery, various areas where you can hang out and play lawn games and a huge bank of food trucks. It was mobbed with tourists just like us, but we fought our way into the complex and enjoyed lunch at one of the trucks. It was amazing to see what this couple built for Waco. People had clearly come from all over to see the silos (we were among them). Very cool to see in person, but now we can totally get why the family no longer wants to be featured on TV…
Houston, Texas
From Waco we headed into Houston where we were once again greeted with the familiar 8-lane highways and giant overpasses. In Houston, we were staying with our very good friends Annie & Taylor who live in the Montrose part of the city. It was terrific: cute houses on quiet streets and tons of great bars and restaurants within walking distance. This is our idea of city living!

We spent the weekend catching up and getting to see various parts of Houston. Considering Hurricane Harvey had wreaked havoc on this city just weeks before, it was amazing to see how good the city looked. We definitely drove down some streets that got hit very hard, but the people were out rebuilding and keeping their heads up. It was good to see.
We really did love Houston and getting to spend time with great friends. The city is so diverse and has a lot to offer. We had some amazing meals, some amazing coffee (important) and enjoyed the ease of living. Perhaps it will make it on our list of places we could live…

Austin, Texas
After saying goodbye to Annie & Taylor, we backtracked and headed to Austin. The reason for the poor logistics was the fact that our favorite band (Wilco) was playing at the University of Texas on a Sunday night. Luckily, we had some friends who agreed to take us in for a few nights so we could see the show and explore some of Austin.
Our friends Jon & Nancy live in a gorgeous home in the Austin suburbs and were so nice to have us. Jon & Nolan worked together in NYC years ago and it is amazing how long some of those work friendships can last. Jon & Nancy now have a beautiful family and it was great to spend a few days with them.

We caught our concert on Sunday night and then on Monday morning got super lucky and caught the band on their way out of town while we were having coffee. Nolan was in heaven! He got to meet one of his guitar idols, Nels Cline, and watched the band all pile into their giant bus as it rolled off to the next show. Woohoo! We then spent the rest of the day exploring the various neighborhoods of Austin and can totally get why people love this town. It reminded us a bit of Portland, but was cleaner and so much more Texas.
On our second and final night Jon & Nancy took us to the "Salt Lick", a famous Austin BBQ place outside of the city. Holy meat! Just have a look at the fire pit and you will see what we were dealing with. Once again, everything is bigger in Texas. Awesome food, awesome people and was a great way to spend our last night in the Lonestar State.
 
New Orleans, Louisiana
From Austin we made the llllong drive across the state of Texas once again and eventually into Louisiana. We were on our way to see one of Nolan's lifelong friends and his wife who live in New Orleans. Pike & Celie have a beautiful home out near Audubon Park and now have a family of their own. It is always terrific to see them!
We explored this amazing city for two days, checking out the French Quarter, strolling down Bourbon Street and getting to see all the places where Nolan had partied way too hard years ago at various bachelor parties and the 2012 Super Bowl weekend. Bourbon Street looks a lot different at noon on a Wednesday….We also checked off the boxes when it came to food & drink: a hurricane, a Po' Boy and of course a burrito at Felipe's Taquiera (where Pike works).
New Orleans is always a great visit, but the best part for us was getting to catch up with our great friends. We had an amazing dinner one night with Pike, Celie and her sisters Sibyl and Courtney. We even got to see Celie's parents, which was a treat. True southern hospitality!
On our last morning, Nolan got a particularly awesome experience when Pike took him up in his plane. Our friend Pike has worked hard over the years to become a very proficient pilot and now even owns his own plane! The two got to spend the morning flying around New Orleans and seeing the city from above, which was awesome! Being in NOLA just reminded us how blessed we are to have such amazing friends scattered all around our awesome country.
 
Savannah, Georgia
From New Orleans we decided to make yet another long drive to Savannah, Georgia. We stayed three nights in a downtown hotel and absolutely fell in love with this city. Tons of gorgeous oak trees with Spanish moss hanging down from them, lots of town squares and so much character!
Over our three days we explored the various town squares, went to the Bonaventure Cemetery and took some photos inside Fosyth Park. We also had some awesome food, including some of the best fried chicken we have ever tasted at Sisters of the New South!
Between the trees, the southern architecture and the horse carriages, this town really does feel like it is stuck in time. You also get the sense that it may or may not be haunted. Whatever it was, we were into it! One of our favorites thus far…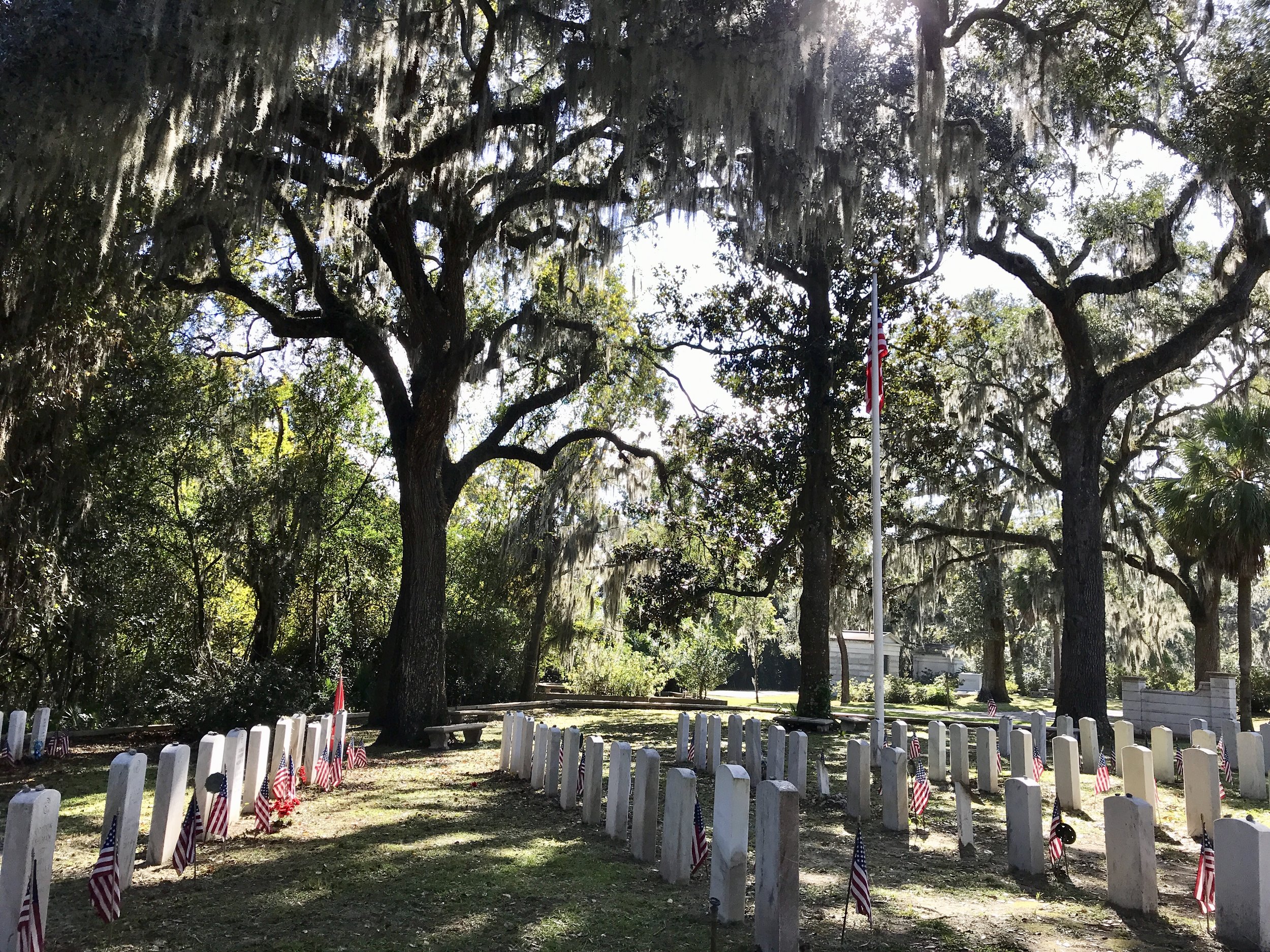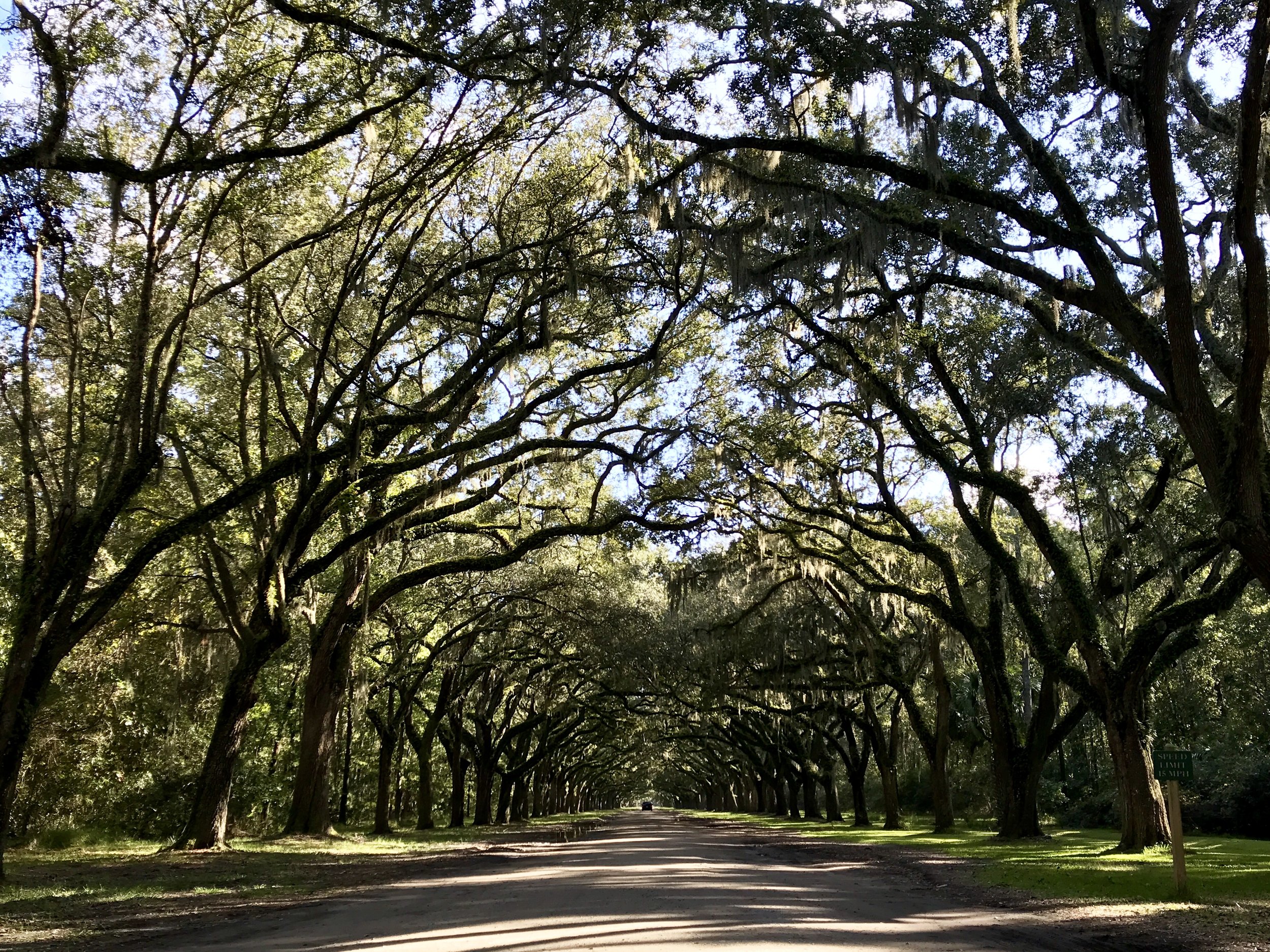 Charleston, South Carolina
Charleston is easily another city where we can see ourselves someday. It has the similar character of Savannah with the added benefits of being a college town (College of Charleston) and having various beaches within a few minutes in the car.
We spent three nights here and stayed at the ever-convenient Francis Marion hotel, which sits right on King Street. If you have ever been to Charleston, you know King Street. It essentially runs right through town and is littered with amazing bars and restaurants and is usually the center of the action.

We explored Charleston proper and also took a day trip (20 minutes) out to the Isle of Palms and Sullivan's. It is hard to believe you can live in a city and have a quick 20-minute drive to what look like untouched private beaches. We also caught up with a few of Nolan's ex-work friends who live in town. Nolan's friend Colin even picked us up in his golf cart to take us to dinner!!
Charleston is kind of like heaven on earth. For us, it checks a lot of boxes: great weather, great food, great people, on the water, beautiful beaches, can drive around on golf carts, etc, etc. It's really hard not to fall in love with this town. It will get a hard look for us someday when we go to settle down…
 
Atlanta, Georgia
We wrapped up our tour of the south in Atlanta, Georgia. We stayed our first night with our friends Cam & Rebecca in the Virginia Highland part of the city. Cam and Nolan had worked together in NYC and they had since moved from the big apple to Atlanta. It was quite a change pulling up to their big house versus the last time we saw them in their Upper West Side apartment! Nonetheless, it was great catching up with them!
From there we headed to Buckhead to check into the swanky Ritz Carlton hotel for a weekend of wedding festivities for our friends Jon & Olivia. Luckily, our parents shipped us our adult clothes and Nolan treated himself to a haircut and beard trim, while Kirby enjoyed a day at the salon. It was necessary.
 
We had a blast spending the weekend in Atlanta in honor of Jon & Liv, but once the festivities ended we knew we were ready to get home. So, we headed straight back to Maryland from Atlanta, which ended up being a nearly 11 hour drive. It was worth it though to get back, into our own bed and prepare for the next leg of our journey.

Stay tuned!